Our upcoming releases cover a wide range of genres. There are superhero action like DWAYNE MCFADDEN: BLACKWING, contemporary horror/suspense like HOUSE OF MISERY, romantic comedies like A DATE WITH JUDY, the epic science fiction ADVENTURE STARVIEWDSV, and the science fiction/Western adventure NICK SLADE, GALACTIC GUNHAWK. Our characters journey through time and parallel dimensions (DOCTOR OMEGA: TEMPORAL FLUX), share wild adventures in the lost jungle of (K'WAKU THE JUNGLE KING), and meet comic's newest horror hostest, the sin-sational Shocka Khun in (SHOCKA KHUN'S DEADTIME STORIES). And those are just a few of the spectualar tales growing in The Fields of Imagination.

The Work Horse Comics Multiverse is divided into several different dimensions: some where superheroes, magic, monsters, and aliens are common, others that are just like the real world. So real-world and fantasy stories can be presented separate from the fantastic and supernatural elements (unless we WANT to mix them together).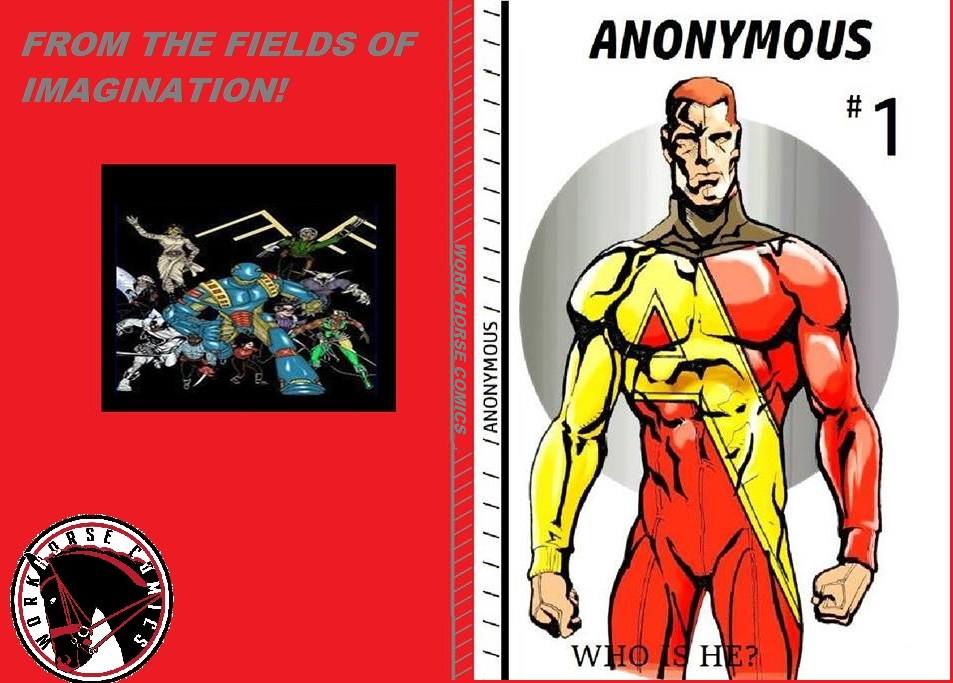 ---
Upcoming Multiverse Releases
Below is a list of some of our current Multiverse comics. rom the "fields" of Work Horse Comic's "imagination".
DWAYNE MCFADDEN: BLACKWING #2
(Writer: Karl Dabney; Artist: TBA)

WHC COMICS PRESENTS #2
(Writers: Karl Dabney, Wesley Siler; Arists: TBA)

TEAM MAX #2
(Writer: Karl Dabney; Artist: TBA)

TANTALIZING TARANTULA #2
(Writer:Karl Dabney; Artist: TBA)

KATHYRN CORNEL'S BLADE OF THE SAMURAI RACCOON #1
(Writer: Kathryn Cornell; Artist: Maurice Peyton)

BRYANT WARNER'S NICK DEAN #1A
(Writer & Artist: Brant Warner)

WILLIAM FOSTER'S THE ENFORCERS #1
(Writer & Artist: William Foster)

Penda The Jungle Queen #2
(Writer: Karl Dabney; Artist: TBA)

Leonine Press Present: Captain Saucer #1
(Writer & Artist: Doug Holverson)

Divinity Comics: Jaxx: Ground Xero #1
(Writer: Jay LaValley; Artist: TBA)

DDWAYNE MCFADDEN: BLACKWING #3
(Writer: Karl Dabney; Artist: TBA)

WHC COMICS PRESENTS #3
(Writers: Karl Dabney, Wesley Siler; Artist: TBA)

TEAM MAX #2
(Writer: Karl Dabney; Artist: TBA)

TANTALIZING TARANTULA #3
(Writer: Karl Dabney; Artist: TBA)

LIFE WITH JUDY(Micro Series)
(Writer: TBA; Artist: TBA)

MUTANT TEENAGE SAMURAI COCKROACHES (Micro Series)
(Writer: Karl Dabney; Artist: TBA)

KATHYRN CORNEL'S BLADE OF THE SAMURAI RACCOON #2
(Writer: AKathyrn Cornel/a>; Arist: Maurice Peyton)

HERO AT LARGE #1
(Writer: Karl Dabney; Artist: TBA)

DWAYNE MCFADDEN: BLACKWING #4
(Writer: Karl Dabney; Artist: TBA)

WHC COMICS PRESENTS #4
(Writer: Karl Dabney; Artist: TBA)

TEAM MAX #4
(Writer: Karl Dabney; Artist: TBA)

TANTALIZING TARANTULA #4
(Writer: Karl Dabney; Artist: TBA)

BRYANT WARNER'S NICK DEAN #2
(Writer & Artist: Bryant Warner)

KATHYRN CORNEL'S BLADE OF THE SAMURAI RACCOON #3
(Writer: Kathyrn Cornell; Artist: Maurice Peyton)

MAGIC QUARTZ COMICS PRESENT: CUATRO AND THE ZYLONIAN KNIGHTS
(Writer: Sandy Panico; Artist: TBA)

BEWARE OF THE GUARDDOG
(Writer: Karl Dabney; Artist: TBA)

WILLIAM FOSTER'S THE ENFORCERS #1
(Writer: William Foster; Artist: TBA)